How to Attract the Right Talent to Your Startup
5

 

simple 

ways

you can

make

your startup hiring strategy

better
Employees have been leaving their pandemic jobs in droves amid what's been  coined the Great Resignation. According to a 2021 survey conducted by Monster Canada, 52% of employers surveyed are shifting their focus to remote hiring and of those surveyed, 46% intend to make this change permanent. Furthermore, 25% of candidates surveyed expect employers to shift to remote work environments in 2021 and beyond. But they care about more than just being remote; post-pandemic employees want different things than they did pre-pandemic, namely more flexibility in scheduling, proof of diversity and inclusion and better pay.  
If you're a startup or scaleup, you're probably eager to get in on this massive buffet of a labor market, and you're not alone. But any company can play the recruitment process like a numbers game for the sake of getting a bunch of bodies through the door. Unfortunately, that hiring strategy, while quick to deliver, doesn't always work out in the long run. The sheer volume of employees participating in this massive exodus should inspire you to try and minimize the number of unqualified job seekers entering your funnel. To hire employees that will increase productivity and lower turnover, cleaning up your "About us" page or updating your job boards won't cut it. You need to build a strong, well-branded online presence to attract and engage your target audience, or you'll be left with the scraps. So, let's break down what you need to do next. 
1. Create an Appealing Career Page 
Your career page is your recruiting hub. It's where job seekers head to find out if you're hiring, what positions you need to fill, and what they can expect if they come to work with you. Job candidates will appreciate professionally designed, easy-to-navigate, updated information about your company and its job openings. And it goes without saying (but we will say it just in case), your career page needs to be responsive and mobile-friendly.   
What Candidates Expect to See on Your Career Page  
Your career page should be a reflection of your employer brand (more on this later). When a candidate visits, it's important that they can see your company's story and vision, what your employees are doing at work, how they feel when they are there, and proof of the culture claims you make about your startup.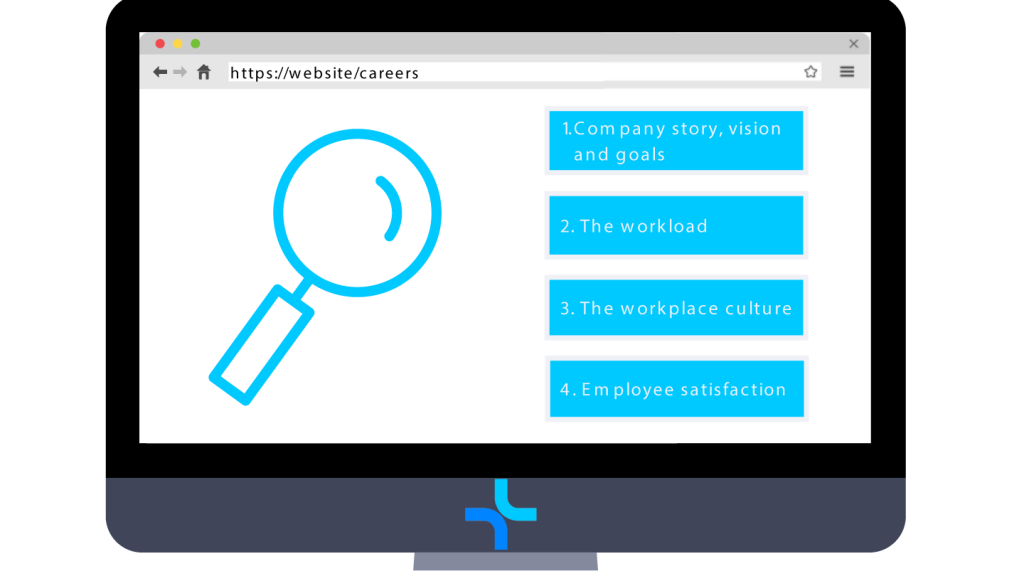 Of course, it's important you don't overshadow your job openings and applications. Strike a balance between your startup's stories and your open positions. Be sure to clearly post application deadlines on your job descriptions and remove positions from your website as soon as they're filled. Some applicant tracking systems (ATS) can automate this process for you. Pivot + Edge has one – how do you think we stay on top of our game so well?  
OK, now back to career pages. Examine Broker Bay's. Here is a startup that clearly demonstrates their appeal without having to load up on buzzwords or oversell the company. The first thing you see on the page is a 24-person video call full of smiles. It's a creative, cute, timely and low-budget effort to reflect how they persevered the realities of their workplace situation. A few scrolls down, the page launches into some simple, poignant paragraphs on their work culture and their overall company mission – to unify the world of real estate.   
They also beef up their careers page by including company praise from a team member when she saw team swag on her door-step.  
Authentic or not, broadcasting testimonials from insiders is a sure-fire method to boost optics and to generate candidate engagement.   
And for those jobseekers who want to get straight to brass tacks, BrokerBay lists all the benefits of joining their team at the bottom of the page including a $1,500 professional development allowance, $500 in health spending, unlimited bereavement, parental and appointment leave and unlimited sick days. By doing this, they are showing they understand that their employees' success is their success, and they take that seriously.  
2. Develop a Powerful Employer Value Proposition
Your employer value proposition (EVP) is the starting point of your employer brand,  defining the drivers of attraction, retention and engagement within your existing team. A strong EVP will show alignment in the values of management and employees, directly enhancing the efficiency of your company. When this process is nailed down, the employer brand can then be built to generate external interest from qualified candidates. Having a strong EVP streamlines recruiting processes and helps you accurately convey what recruits can expect when they come to work for you. An employer brand with a solid EVP will include:  
A long-term vision and how the team plans to get there 

 

Career development opportunities  

 

Work environment details, including remote work possibilities and flexible

scheduling 

 

Information about your corporate culture 

 

Employee ambassadors and other proof of the firm's promise 

 

Insight into management style 

 

Opportunities for travel, community service 

 
Your EVP is the very foundation your employer brand and is one of the most important things you can do when building a strong branding strategy. It should be considered in all aspects of recruitment marketing. That includes social media campaigns, your career page and job postings on external websites.  
In this LinkedIn post, a Halodi Robotics HR leader takes to social media to broadcast the company's career opportunities to their network, promoting the firm's values from within. According to Glassdoor, 86% of employees and job seekers research company reviews and ratings to decide on where to apply for a job and 75% of active job seekers are likely to apply to a job if the employer actively manages its employer brand. Not broadcasting your brand across as many platforms as possible is what we startup hiring experts would call a 'missed opportunity.'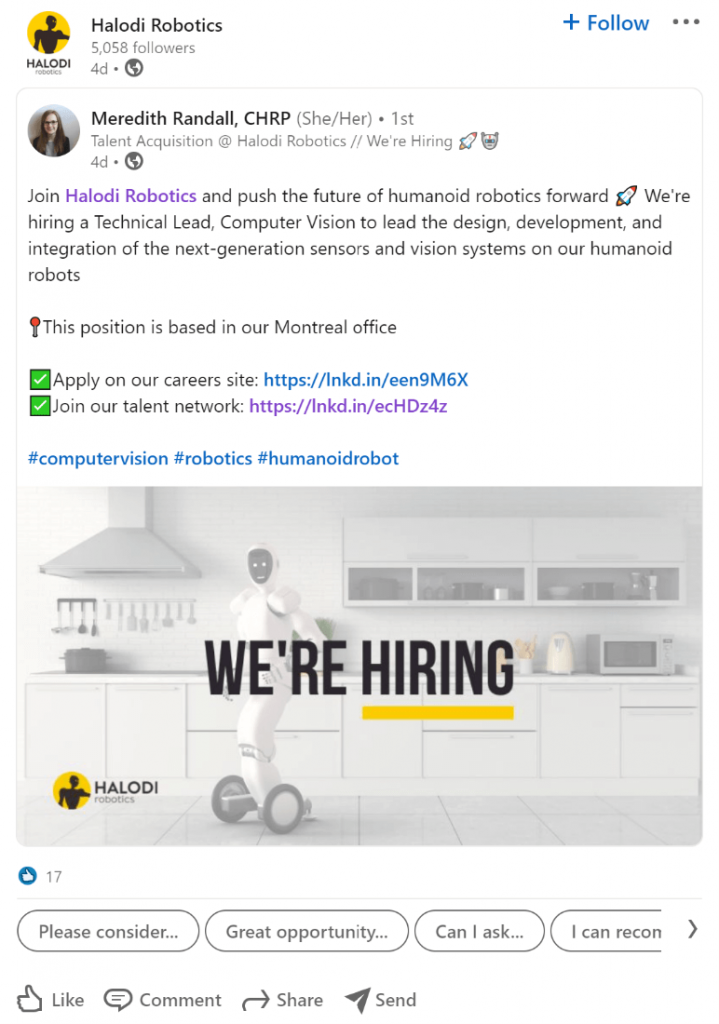 Meredith is not just pointing to a careers page, she's also directing her network of jobseekers and startup CEOs to their internal resource known as a Talent Network. That terminology is just something that we at Pivot + Edge have coined, but what it boils down to is an internal recruitment marketing process that keeps interested subscribers engaged with the startup hiring process via monthly newsletters. They push out the latest job listings and keep tabs on employee stories, amplifying the employer brand on an automated basis.  
3. Use Targeted Personas to Create Recruiting Campaigns 
Before you seek to hire employees, consider your ideal candidate. Think about the skills and experience you'd like someone to bring to your company, as well as the type of personality that would fit best with your culture. When you create job postings and descriptions, target them to these personas.   
When crafting your candidate personas, you want to delve deeper than surface level details like their experience and education. While it may seem tedious, your marketing/analytics team should get right down to their lifestyles and habits as they would a persona for the products/services you are selling. Consider the following:    
Stage of career

 – Where your candidate is professionally will likely help you predict what kind of projects they can handle and what workplace expectations they have, I.e. salary, work culture, corporate social responsibility, etc. 

 
Geography

 – Whether the job you're offering is fully remote, office-based or a hybrid of the two, knowing where a candidate is and where they have worked in the past may give you a sense of their exposure to certain industries.  

 
Internet habits

 – Narrowing down how you think your dream candidate consumes media, shops online, or what their day-to-day passions are may be key differentiators when you have two candidates too close to perfect. 

 
Weaknesses

 – What professional flaws are you willing to forgive? You can find this information quickly by reflecting on previous employees who didn't last long or who weren't a great cultural fit for your startup. Were there any "red flags" you can get ahead of? 

 

 

 
Low-level goals 

– What is the ideal candidate looking for in the short-term? Do you want someone who is interested in a part-time role, a project that takes special skills but isn't large enough to hire them part-time? You can avoid awkward conversations if you are forthright with the realities of the position if it is meant to be temporary. 

 
High level goals 

– This might be the most important criteria to work out before you start searching for top talent to fill your ranks. If you can find a candidate whose career aspirations align with the vision of the company more than money or perks, you should on to them for as long as you can.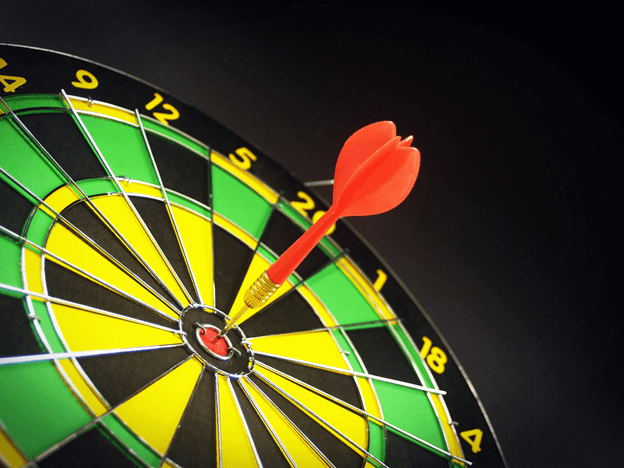 4. Identify the Best Social Media Channels to Use for Your Brand
When you collect applications from potential employees, think about how you'd like them to apply. Many recruiters are straying from traditional application processes to make use of platforms such as LinkedIn and even Facebook. Think about which method your targeted personas might like to use when they apply for job openings and start with those. Be sure to monitor metrics and compare platforms to determine what's working best for your company. Bear in mind, metrics apply on a company-to-company basis, but the most common indicators of a healthy recruitment process include: click-throughs, bounce rates on job pages, interview-to-hire ratio, time-to-fill, offer acceptance rate and quality of hire.   
Responding to Reviews is a Big Part of Your Employer Brand  
Speaking of social media, guess what? Glassdoor reviews count. A lot. Responding to reviews and maintaining your online presence has a huge impact on the public's perception of you and your recruitment strategy. As many as 72% of candidates who've had a negative recruitment experience have admitted to sharing those stories online. As an employer, you can use poor reviews as an additional insight into how job-seekers perceive your recruitment process and you'll get brownie points for being professional in your response. It's important that you develop an effective employer branding strategy (beyond reviews) that positions your company in a positive light and follows through with the promise your brand makes to employees.  
5. Make Sure Your Goals Are Actionable and Measurable 
Setting branding and recruiting goals for your organization is one thing but making sure you've achieved them is a whole other step. Determine the metrics and key performance indicators (KPIs) that you'll use to measure your success and track them consistently. Consider using an applicant tracking software and analytics programs to monitor progress.    
Don't forget, as you achieve and surpass your goals, continually set new ones to ensure your recruiting efforts don't fall by the wayside.  
When it comes to recruitment marketing and employer brand strategy, it's often beneficial to work with a professional recruitment marketing team. If you're serious about leveling up your employer branding or just need a hand with a few hires, check out some of the services we offer at Pivot + Edge. But even just following the 5 simple steps we mentioned in this article will have you attracting top candidates to your startup in no time. 
Want to learn more? Check out our full Guide to Hiring Great People for Your Startup today!
Trust us – you'll learn something!