Understand

ing

when and

how to

hire

a

Vice

P

resident (VP) of

Sales

for your startup

will have a huge impact on growth.
Stakes are high when you're hiring your first VP Sales. This is the person who will accelerate your startup's growth. As LinkedIn puts it, "That person will touch nearly every aspect of your business and is ultimately responsible for your buyer journey and their experience, which directly affects your bottom line." As we said — high stakes.  
So, how do you hire the best VP of Sales for your bottom line? Here are five key steps. 
Make sure your timing is right:
One of the most significant cautionary tales that comes from bringing in your first VP of Sales is to make sure your timing is right. There are several questions your scale-up needs to answer yes to before taking the hiring plunge. However, it's just as easy to hire too late. Then, you'll find your business falling behind on sales goals because you can't see anything through.  
Keep this in mind: there comes a time when founders need to focus on strategizing and let the sales team do the selling. Know when to give that aspect of your scale-up over to more capable hands. Here are some of the questions you need to answer to determine if you're ready: 
Do you have a repeatable sales process?

 

Do you already have customers? 

 

Do you know why your customers buy, stay, and leave?

 

Do you already have a small sales team working? 

 

Is your annual recurring revenue high enough?

 

Is your business ready for the growth a VP of Sales will bring in?

 
A rule of thumb from Close is to start looking for a VP of Sales at about ten customers. This will give you enough time to get someone hired and onboarded by the time your business is really ready to grow.  
Know what kind of VP of Sales you need:
A startup hiring a VP of Sales for the first time is unlikely to land that top-tier entrepreneurial mogul from the big company. Instead, look for someone motivated, ambitious, and unafraid to get their hands dirty. While a Rolodex of contacts is nice when your VP of Sales needs to bring in more bodies, there will also be some scenarios where they'll be the boots on the ground. There are numerous kinds of VP of Sales to hire depending on where your business stands. Get someone who can do both.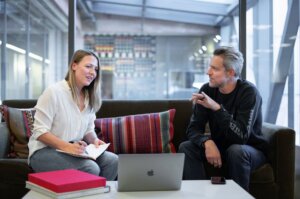 Understand the role and expectations:
Contrary to what some people believe, a VP of Sales isn't entering your company to get sales going or even create the sales process for you. They're there to bolster your team with fantastic sales talent, help close bigger deals, and develop better sales strategies to increase your bottom line. Here are the five things Hubspot claims are the main roles of your new VP Sales: 
Recruiting

 

Advising 

 

Optimizing

 

Strategizing

 

Closing business 

 
Don't forget to give your VP of Sales time to start making things happen in the business. All these tasks take a lot of time and energy (especially recruiting, as you likely know). If you've taken the time to carefully select the best possible VP of Sales for your team, then expect significant growth over time.  
Avoid a costly mis-hire:
Speaking of taking your time, hiring correctly is critical. A mis-hire in the VP of Sales role is one of the costliest mistakes a startup can make. They're involved in every aspect of your business, so doing it wrong can really set you back. How do you avoid mis-hiring? By following the above steps, creating a candidate persona, and ensuring you have the right hiring process in place. Frequently, it's even worth bringing in a third party for the recruitment and hiring process. They'll have access to more resources and networks and know what to look for in a VP of Sales for a scale-up. Interested in involving a third party? Here's how to get in touch. 
Tailor your interview questions:
Great salespeople will obviously be good at selling. You need to ensure you're asking the right questions during your interviews so you weed out candidates who put up smoke screens well and find the genuine article. Create a set interview to level the playing field for successful first-round candidates and remove unconscious bias. Then, when you've found the winning talent, be sure to get that successful offer stage close.