So, you're looking for a new role. No matter your reasons for seeking new employment, you're likely looking for more than just a job you'll be able to tolerate – these days, many candidates are searching for companies with inclusive cultures that align with their personal values.
In fact, a recent study by Glassdoor showed that 56% of workers rank a strong workplace culture as more important than salary, with more than three-in-four workers saying they'd consider a company's culture before applying for a job there… and when that culture doesn't match up with expectations, another study found that 72% of people starting new jobs have regretted their decision to join the team.
That's why it's so important to treat the interview process as a two-way street. Just as you're being evaluated for the job, you have the chance to evaluate your potential employer. Will they provide the proper support and work environment to meet your needs?
To help you decide, here are 4 culture red flags to watch out for during your job search!
🚩RED FLAG 1: Company-wide diversity is lacking
Many companies talk the talk, but do they walk the walk? A look at the organization's LinkedIn or website can help you determine whether your next potential workplace has effectively curated a team that's diverse.
Of course, you can't tell everything from online research – but if everyone appears to have similar backgrounds, appearances, and interests, it's likely that DEI hasn't been enough of a conversation. However, your interviewer should be able to explain the team dynamic and the efforts they're putting into hiring people who will add to culture rather than just fitting within it.
🚩RED FLAG 2: Culture-building is more fun than functional
Snacks, ping-pong tables, casual dress, games and happy hours are fun, but they don't always provide value for everyone on the team. There's a difference between culture and perks, but Indeed's World Happiness Report revealed a disconnect between what managers think matters to employees versus what actually influences the employee experience.
You can probably tell a fair amount from how they advertise themselves in the job description, on social media, and on their site – but in your interview, pay attention to how the hiring manager talks about culture. Do they address the values the company holds and the standards they set for transparency, respect, and equity, or is it all surface-level?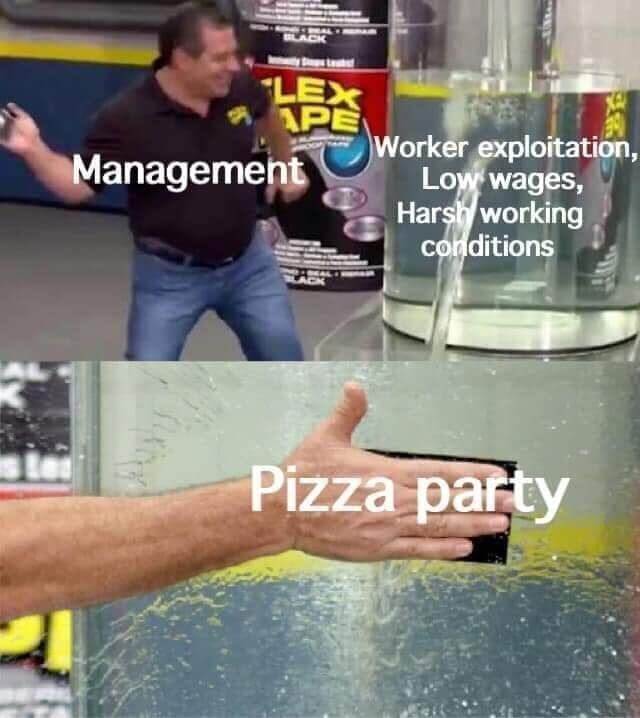 🚩RED FLAG 3: Policies don't reflect trust in people
Remote working arrangements have become more common since the pandemic, and interestingly enough, Data from Future Forum shows that the "remote revolution" has led to large improvements in Black workers' employee experience scores. For many people of colour and LGBTQ+, less time in the physical office means less pressure to change their behaviour, appearance, or speech to fit into the "dominant" culture. Working in the safe space of home can give people more room to be themselves, as over half of people who identify as LGBTQ+ are not out to everyone they work with in fear of not being accepted by their peers.
Another point to consider is proximity bias, or preferential treatment shown to people who work physically together. This is a huge factor for many women who bear the brunt of household duties, working parents, disabled individuals and those who can't afford to commute – so it's safe to say that flexible work is an important piece to an effective DEI strategy.
If leadership is rigid about enforcing the 9-5, it can leave employees struggling to balance work and personal responsibilities. This makes it hard to attract and retain top talent – so be mindful of what policies are in place at a new company, and don't be afraid to ask the reasoning behind them to get a better understanding!
🚩RED FLAG 4: Leadership can't answer key questions
There's nothing worse than performative culture-building efforts. Ideally, leadership (and the team at large) should be able to talk about DEI if it's truly embedded as a core value throughout the organization – so it's definitely worth asking your interviewer some questions about it to dig a little deeper.
Here are some options to get you started:
What are your core values?
What steps have you taken to create an inclusive environment?
How are holidays observed?
Do you have any employee support groups or helpful resources?
Have you ever organized anti-racism or anti-bias training sessions?
How do you make everyone feel heard and included on the team?
How do you ensure everyone stays connected despite a remote working setup?
If companies can answer the above, it's a good sign that they've put effort into being an equal opportunity employer. It's hard to hire without any bias, but if a new job sets off alarm bells, trust your intuition! You deserve a workplace that will invest in DEI and in you. Good luck!