Pull in candidates by making yourself relatable, reachable and believable (even while remote)
You'd better believe that the remote work lifestyle will be here to stay long after the pandemic has ended. Whether you're waiting to go back to the office, have decided on a hybrid model, or are fully committed to remote work, your business needs to begin humanizing its employer brand. Not sure where to start? Then allow us to fill you in. 
But what does it mean to "humanize your brand"? 
Good question. It's easy to get lost in jargon and buzzwords – to keep you from drowning in word soup, let's break down exactly what humanizing means.  
It may seem obvious, but there's more to the humanization process than people think. Anyone can have an 'About us' page, a few social media profiles or a super catchy slogan, but those are all mere table-setters. In 2021, when the world is just starting to regain some balance after being KO'd by Covid-19, you need to sell yourself to potential candidates by being relatable, reachable and believable – especially when most of us have only been connected via internet for the last year and a half. 
The four ways to humanize your employer brand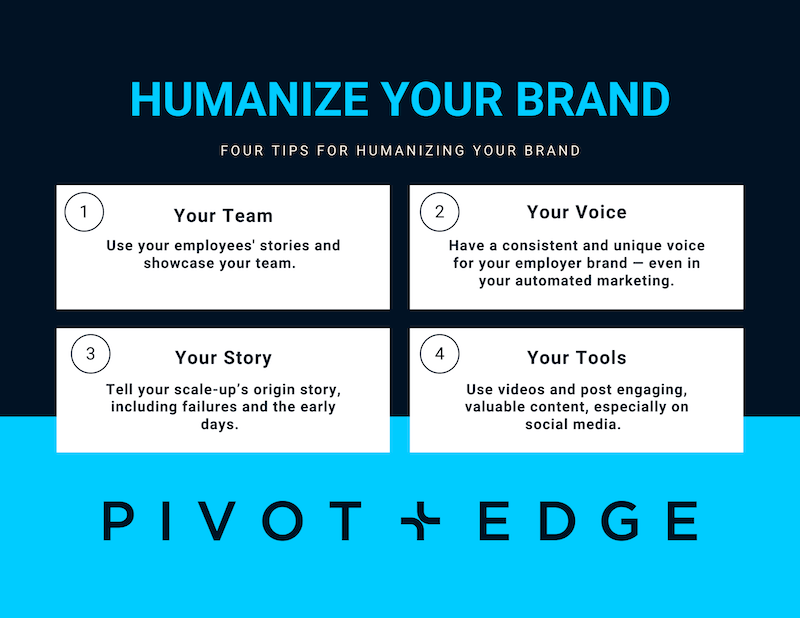 Humanizing your employer brand will only make it stronger. In turn, you'll receive applications from top talent who want to work for you; startups and scale-ups can't afford to hire ill-fitting employees if they want to move forward strategically! Even if you have an established employer brand, make sure these four tips for humanizing it make their way into your strategy:
Use your employees' stories and showcase your team. 
Have a consistent and unique voice for your employer brand —  even in your automated marketing. 
Tell your scale-up's origin story, including failures and the early days. 
Use videos and post engaging, valuable content, especially on social media.  
What is an employer brand? 
While we defined what a business brand is in our May article, an employer brand is slightly different. Builtin describes employer branding as "the process of managing and influencing your reputation as an employer among job seekers, employees and key stakeholders." It's what you put out to potential candidates that will (hopefully!) place you in their #1 spot for potential employers. It includes these key pieces: 
An

employer value proposition

(or EVP)

Your company's values and essence


A glimpse at your company culture and what it's like to work there
Having an excellent employer brand is invaluable when hiring, as you save both time and money while attracting the top talent that best fits your scale-up. According to Linkedin, recruiting costs drop about 43% when your employer brand effectively entices top talent. Not to mention, 69% of potential hires would reject a job offer from a business with poor employer branding — even if they were unemployed. 
What's the most important element to building a strong employer brand? Relatability.  
"Not investing in your employer brand is costly, and we don't mean in a general sort of way. We mean it in a no-doubt-about-it, direct-line sort of way, on things like recruiting costs-per-employee, your HR budget, and overall bottom line." 
Why is humanizing an employer brand important? 
Your employer brand aims to build your reputation as an attractive employer to the talent pool. However, the most important outcome from your employer brand is obtaining and retaining the top talent that best fits your company. Humanizing a brand puts potential talent in the shoes of an employee, helping to manage expectations and weeding out the wrong candidates before they apply.  
Strong employer branding also reduces turnover in successful candidates by nearly 25%. By humanizing your brand, the talent that resonates with your company culture, values, and vision are the ones who will see the application process through. Not sure how to develop a brand, an EVP, or don't know what candidates want to know about your company? We happen to be experts in that realm and are happy to get you started! 
What if my company is staying remote? 
If you've decided to remain remote, your employer branding is arguably even more critical.  
Remote workers still need to feel cared about. A humanized employer brand will ensure connection in their day-to-day life, even if they're always behind a screen. Employer branding for remote roles comes down to managing employee expectations. If you've been clear about roles being remote, have presented an attractive employer value proposition and have demonstrated that your company culture is alive and well in a virtual environment, the top talent who resonate with that kind of work will be inclined to pursue employment with you instead of your neighbour. 
Level up your recruitment strategy with industry secrets and recruitment best practices and start Hiring Great People for Your Startup today!