We say it every year around this time, but it truly is hard to believe that the holiday season is right around the corner! In the past few years, many companies have decided to go fully remote or work with a hybrid arrangement. With the change in workplace structure, the traditional office holiday party is likely to never fully return. However, that doesn't mean you should skip holiday parties altogether, but rather adapt and adjust your plans to the new norm.  
Here are 5 simple ideas for an annual holiday party for your remote, hybrid, or in person team!
1.

Cocktail (or mocktail) hour

Is your team an adventurous group? Mix it up (pardon the pun) and get the team together (virtually or not) for a cocktail/mocktail hour. Provide your employees with the cocktail ingredients before the call, and then have fun learning to make your drink together! Depending on your budget, you could consider paying for a professional to join the call to teach your team a thing or two about making the perfect cocktail. The best part is, a cocktail (or mocktail) hour can be done virtually or in-person depending on your company's structure.  

 

 
2. Holiday Gift Baskets
With everyone living further apart these days, a small token of appreciation and company swag can unite a team. If you're working in a hybrid workplace, it is easy to have a holiday gift basket ready for everyone's arrival on the last day in the office before your holiday break. For a fully remote team, put together a basket with goodies and deliver them to everyone's doorstep. This is a great opportunity to convey to everyone how important they are to the team with a personalized gift. Some things to include in the gift basket may include: a gift card, coffee/tea, holiday treats, company branded toque, notebook, candle etc. If you want to go the gift route with your team, here are some more great gifts to consider. 
3. Gingerbread house/Cookie decorating contest
Send everyone on your team the same gingerbread house/cookie decorating kit to work from and let the creativity fly! For a fully remote team, get together on Zoom to decorate 'together' and at the end of the hour, have people vote for the best decorated house or cookie. This can easily be done in-office too! Set up a decorating station and watch people get creative while chatting with coworkers. Decorating in-office is also a perfect opportunity to provide yummy treats or drinks for your team. 
Pro Tip: it doesn't hurt to encourage participation with a little prize for the winner!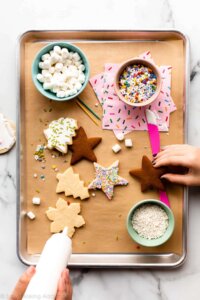 4. Holiday "Minute-to-win-it" Challenges
A super fun way to break the ice and stir up a bit of competition is to include minute-to-win-it challenges in your holiday party. If your party is at the office, you can have all the supplies set up and ready to go. If you're doing this over Zoom, send the supplies to your team ahead of time so they can be ready for the party. Here are some examples of games: 
Cookie Chomp:

Each participant balances a cookie on their forehead, and races to be the first to eat it without using their hands.

 

Snow Shovel:

Once the clock starts, each participant has one minute to transfer the cotton balls from the original bowl to the empty bowl using only a plastic spoon in their mouth.

 
For more minute-to-win-it game ideas, check out this list! 
5. Dinner Party
There's nothing wrong with keeping your holiday party simple! If your team is back in the office, make a reservation at a local restaurant. If you're deciding between whether it should be a lunch or dinner party, take a quick poll to see what the majority of your team prefers. Some may prefer to have lunch and then an early start to the holiday, where some may prefer the formality of a dinner after work hours. 
Working remotely? No problem! Arrange to have meals delivered to your employees' homes, send them gift cards so they can choose what they order, or simply set a budget for them to buy and expense their food. Get together on Zoom and enjoy your meal as a team, let it spark conversation and reminisce about the year you've had!  
It is easy to let the weeks slip away from you before you know it, it's the holidays. Don't miss this great opportunity to bring your team together, celebrate your victories, plan your next steps, and reunite as a team going into 2023. Wishing everyone a happy and safe holiday!