It's one of the hardest and most annoying interview questions out there: what's your greatest weakness? You may be wondering why this is relevant or if it's a trap – but when interviewers ask this, they're trying to figure out if you have a healthy level of self-awareness and how you've achieved personal growth. Nobody is perfect, but your ability to work on those imperfections says A LOT about you!
You don't have to lie, but you should be selective about what you say here. Choose a weakness that both resonates with you and relates to the workplace. Then, finish your answer by explaining how you've taken steps to overcome it! Keep reading for some dos, don'ts, and examples to explain what we mean.
DON'T SAY: I don't have a weakness!🙅🏽‍♂️
While it's usually a good idea to stay positive, don't pretend to be perfect. If you say you have zero flaws, you may give off a negative impression… and since 76% of recruiters reject candidates who seem arrogant, this is unlikely to end well.
DO SAY: I can be overly detail-oriented.🧐
Instead of emphasizing your perfection or perfectionist tendencies, highlight your attention to detail. Try saying something like: "I like to ensure that my work is high-quality, so I have a habit of double checking the details of every project before I decide it's finished. In the past, I've caught myself spending too much time on small things instead of seeing the big picture – but now, I make sure to prioritize carefully and check in with my team in order to find a healthy balance between quality and efficiency."
DON'T SAY: I have a huge sweet tooth.🍫
Yes, chocolate is amazing. But should you say that sugar addiction is your biggest weakness? Probably not. This is because 75% of recruiters use behavioural questions (like greatest weakness) to assess soft skills. If you deflect the question with a joke or a trivial answer, you're less likely to make an impact with your emotional intelligence.
DO SAY: Sometimes it's hard for me to say no.🗣
Just like it's hard to turn down a Mars bar, it can also be hard to tell your teammate you can't help them. This is a problem for a lot of "team players" and "people pleasers" who love saying yes but end up burnt out. If this sounds like you, try saying: "I'm naturally quite collaborative and I love helping out my teammates whenever I can. This is usually a good thing, but it can also lead to an overwhelming workload when I take on too much. That's why I've learned to check my agenda and visualize my bandwidth before saying yes to additional tasks."
DON'T SAY: I hate working with introverts/extroverts/cat people/dog people.😡
Did you know that poor people skills is one of the main reasons candidates get rejected? Unfortunately, many candidates don't realize the importance of learning to work with others – especially when others work differently than you. In most companies, you're bound to encounter various personality types, which means you need to demonstrate the ability to find common ground.
DO SAY: I can be a bit too blunt.🤐
If you pride yourself on honesty, that's a great trait to have! The best ideas come from challenging the status quo, but it's also key that you communicate your thoughts in a respectful way. Try answering the greatest weakness question by saying: "I'm passionate about what I do, which means I have strong opinions. However, I recognize that not everyone I work with feels as comfortable sharing their point of view. I've learned to pair my honesty with a sensitive delivery over the course of my career, so that others have a chance to speak and any criticism I have remains constructive."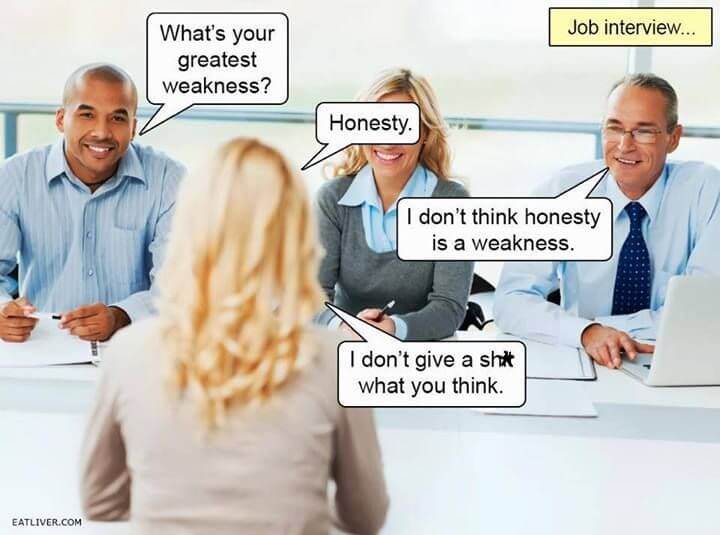 DON'T SAY: I'm always late…⏳
Let's be real, we've all been late – but when it comes to interviews, tardiness is a quick way to make a bad impression. In fact, it only takes a few minutes to wreck your chances of landing the job, as 30% of interviewers make their decision about an interviewee within the first five minutes of the interview… so arrive on time and avoid mentioning this very unpopular habit.
DO SAY: I need to remember to provide feedback.🙊
If you have ever led a team, you can probably identify with this weakness. In many businesses, things move fast and managers don't make time to provide praise for wins or guidance after mistakes. If this is something you've noticed for yourself, try saying: "In general, I try to lead by example and avoid micromanaging my team. However, I've learned that waiting for an annual performance review can take away from learning opportunities. Now, I use apps to check in with my team and provide feedback in the moment. This encourages an open dialogue for praise or discussion, but doesn't leave my team feeling smothered."
So, there you have it! We hope these sample answers have helped you formulate the perfect 'greatest weakness' response. Remember, the point of this question isn't to seem flawless – the point is to show introspection and the ability to overcome your limitations. Good luck!
For more tips like this, make sure to join the Pivot + Edge Talent Network. We're always sharing our top career insights, hiring tips and all the latest news from our team, and we can't wait to connect with you!