Getting top talent to join your team can be challenging. It takes a lot of time, sweat, (sometimes) tears, and patience to source, recruit, screen, interview, hire, and receive that "yes" when you finally send out a job offer. Why spend so much time trying to hire the best candidate, only to welcome them into a circus of poor onboarding? "I've made a huge mistake" are the last words you want to hear from them. Not only will it cost you money, but it can significantly affect your current employees and result in a pretty lousy business review on sites like Glassdoor.  
It's worse when you consider that as much as 20% of employee turnover occurs in the first 45 days. Why? You can bet that a poor onboarding experience plays a big part in it. The best way to bringing in a new hire is to have a set program or strategy to provide consistency, comfort, and confidence throughout the onboarding process. A fantastic experience will play into higher employee retention, overall satisfaction, and even productivity. A strong onboarding strategy will ensure you don't waste the work you put into finding top-notch candidates.  
What's your angle?
Your company is unique, so how you welcome a new member to your team should also be special. Consider what your business values are and the kind of company culture you've built. Those value pillars can help inform the type of onboarding strategy you want to implement. Side note – these same values should be reflected in your employer branding throughout the candidate experience, including your onboarding process! As Sapling HR points out, there are numerous major companies that all recognize the value of exceptional onboarding, but they've all gone about it in a way that is true to their business. This can look like Netflix's "culture and leadership-driven" onboarding program, Buffer's "Three-Buddy system," or even Twitter's "From 'Yes to Desk'" technique outlined in Sapling's article.   
As long as it is consistent, effective, and makes your new hire feel welcomed and competent, you'll be setting both them and your team up for success. It also helps reinforce a few things:  
What your company values, beliefs and goals are;

 

That your new hire fully understands what your company stands for; and,

 

That both your team and your new hire are on the same page.

 
A mismatch between the company culture and your new hire is another significant contributor to higher employee turnover outside of onboarding. If you can reinforce your purpose and goals in a well-worded employee value proposition, you'll weed out candidates who don't align with those goals. In an article from Business 2 Community, they report that 58% of companies with an articulated, understood sense of purpose experienced over 10% growth. By ensuring your onboarding process reiterates your company purpose clearly, you'll be bringing in purpose-oriented team members who will help drive the growth of your startup or scaleup.  
The Key Components
Once you settle on your angle and the company values you want to present through your onboarding program, it's time to incorporate these components:  
1. Administration
"The best employee onboarding programs are both structured and strategic, rather than administrative." — Tech Jury  
There's no hiding it — new employees mean a lot of paperwork. It's best practice to have this completed by both the new employee and your HR team before they arrive for their first day. This way, when you roll out that red carpet for their big arrival, they feel confident and secure in their position. The other key component to complete before the first day is to have your new hire's workspace set up and their logins good to go. Nothing is more frustrating than being unable to access key systems on your first day.  
Other tips for administration and a new employee include:  
Starting them off with a tight, well-organized schedule;

 

Clarifying expectations on day one; and

 

Leaving room for feedback from your incoming team members.

 
2. The First Day Welcome Committee
Make sure you take the time to introduce your new employee to the rest of your team. Even if you're working remotely, this can help them feel more comfortable and show them that they fit in right away. They likely chose to work for you, in part, because of the people currently on the team, so bringing them into the heart of it is a fantastic first step. It's not a bad idea to assign your new hire a mentor or buddy to show them around and as an information source should they have any questions.  
Other first-day considerations include: 
A guide including login information and processes

 

A welcome package with fun company swag

 

An orientation guide and tour

 

A contact sheet for where to direct questions

 

Policies and procedures in a digestible format

 

An email outlining different ways to get involved in the company right away

 

Finding a quick and easy first success to help them navigate and celebrate

 
While your new hire is likely to be eager to get started (that's why you hired them, after all), it's easy to overwhelm someone on their very first day! That's why you should consider extending your onboarding process beyond the welcome committee. Don't be afraid to break the first-day protocol down into steps that are followed with each new hire. According to Software Advice, Twitter follows a 75-step program for every first day experienced with the company. 
3. Offering Continued Support
"For some organizations, onboarding and orientation are one and the same. But orientation is meant to be a one-time event, while onboarding is a process that should last at least 90 days." — SHRM 
When you know that nearly a quarter of the turnover that happens does so within the first 45 days of someone's time at a business, you can assume that the onboarding process has failed to make them feel that they're working for a company that's worth their time. Take a look at your own KPIs for hiring and employee retention. Where are you seeing people drop off? If it's within those first key weeks of employment, your onboarding process may need a revamp. Here is a simple checklist to keep your team consistent: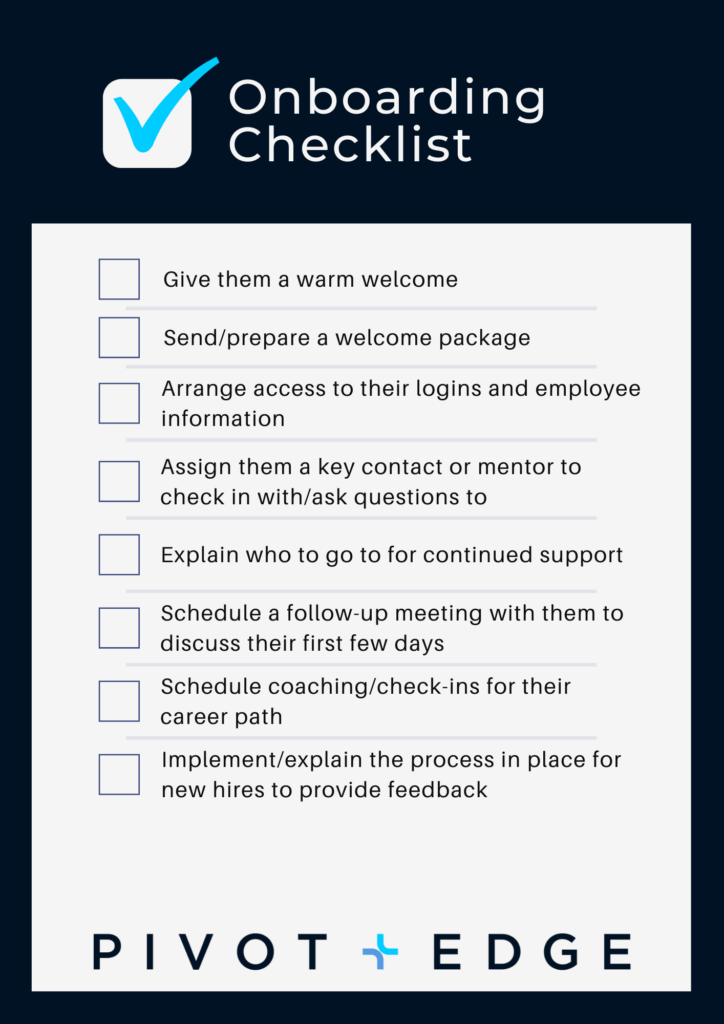 Give them a warm welcome 

 

Send/prepare a welcome package (this could be company swag, a card signed by the whole team, or something as simple as a $10 Tim Horton's gift card for a coffee and a treat on their first day) 

 

Arrange access to their logins and employee information they need

 

Assign them a key contact or mentor/buddy to check in with and ask questions to

 

Explain who to go to for continued support 

 

Schedule a follow-up meeting with your new team member to discuss their first few days — this should be put in their calendar in advance to ensure they are prepared and confident in your commitment 

 

Schedule coaching/check-ins for their career path 

 

Implement/explain the process in place for new hires to provide feedback 

 
Creating a positive employee experience goes far beyond day one. Every day, it should be a priority to ensure you have a happy, productive, and highly motivated team! A lot of that can be attributed to offering ongoing support. This harkens back to that "purpose-driven" motivation we mentioned earlier. Ongoing support shows hires that you care about their role in the company, their growth and how that growth aligns with what your business wants to achieve.   
Of course, support can mean something different to everyone. Approaching them for a 30-minute morning 1-on-1 or a daily debrief could feel overwhelming to some. Reiterating that your door is always open for a casual chat on whatever they need, or making sure you or someone else is immediately available if a new team member finds themselves stuck can be enough for many. Communicate and engage with them and find out how they like to be supported and build out a simple solution together. 
 One Last Note
Trust us — do not underinvest in the onboarding process. It can undermine your hiring success, and the trial-by-fire style of bringing someone intends to result in chaos, despite all good intentions. So, have a plan, use a checklist, stick to it, and help foster success within your team from day one onwards.  
However, that's not the most important thing to keep in mind. When it comes to onboarding, here's the top piece of advice we can offer: Give your new hires time. Even with the most perfectly consistent, well-constructed, successful onboarding plan, employees are humans and will need some time to settle in and find their stride.    
This is a lot of information, so we'll narrow it down a bit for you. When creating the onboarding program your company needs, these are the things you need to consider: 
Determine your company's values and culture and use them to inform your onboarding program.

 

Figure out which administration details can be done before your new hire's first day and get them out of the way. 

 

Give them an excellent first day, as well as the tools they'll need to succeed at their role, such as logins, passwords, access to data systems, etc. 

 

Offer continued support through check-ins, a point of contact for questions and concerns, career pathing, or learning and development opportunities. 

 

Give them time to settle into your company's culture and everyday rhythm.  

 
 These five points can be determined in advance and should become a consistent, well-oiled process for your business. Divide tasks into checklists for your team to go through when bringing in someone new and help set everyone involved up for success — including your own business.  
 If you have any questions about onboarding, how to create your strategy, or anything else in this article, contact us! We're here to get your startup growing with the right people.