Glassdoor is a great way to learn about a company's reputation. The site allows employees (present and former) to post reviews of their employers, which can provide valuable insight into how your  company culture or processes are being perceived.  Glassdoor reported that 86% of employees and job seekers research company reviews and ratings to decide where to apply for a job.
It's almost inevitable that you will receive a negative review on Glassdoor at some point, whether it's warranted or not. Step 1: don't panic. Step 2: learn how to respond appropriately and professionally to negative reviews.  
Not convinced replying to reviews will do anything for your company or solve any problems? What if we told you that according to Glassdoor reports, 7 out of 10 people surveyed indicated they had changed their opinion about a brand after seeing how the company replied to a review. Convinced? 
Replying to negative Glassdoor reviews, especially if they're one-star, shows current or future candidates that your company cares and takes feedback very seriously. So, we've put together a simple four-step guide for how you can effectively respond to negative Glassdoor reviews: 
Step 1: Take a deep breath
Just as no sane person actually likes going to the dentist, no one likes to receive painful feedback—even if it is valid. Glassdoor's format poses added discomfort for employers as the reviewers remain anonymous but the forum remains open for all to see (and judge). 
Although your instinctual reaction may be to call Glassdoor and demand that they remove the awful review ruining your business' reputation, you'll need to resist the urge and take a deep breath. We know Glassdoor won't remove the review so the only choice is to deal with it. And deal with it in such a way that it will not cause further damage but instead build your company's good reputation.   
Once you read the review for the first time in its entirety, it's time to click away and take a deep breath. Not only can taking a deep breath calm your brain and lower your blood pressure, counting your breath can help you tap into your brain's emotional control—and the last thing you want to do is respond to any negative review with emotion (just wait until you see the example of how bad this can be later on in this article).  
Bad Glassdoor review or not, having the common 4-7-8 breathing method in your back pocket will save your reputation in stressful professional situations. As we like to say breathe before you proceed…that rhymes, right?  
Step 2: Read the review objectively and seek nuggets of truth
Now that we are calm and collected, it is time to read the review with a fresh set of eyes. While whoever left the review left it for their own reasons, know that the author cared enough about your organization to do so. And that is actually a really good thing.  
The manager/employee relationship can be a complex beast, and it is very possible that the scathing review highlights potentially hidden information about the inner workings of your culture that need to be explored. 
Ask yourself: What is the underlying problem being expressed in this review? Have I seen any of the problems discussed? Have I actually looked for the problems being discussed? Have I cultivated a culture where honest critiques of the organization can be expressed? When is the last time I asked for internal, anonymous feedback?  
Be honest with yourself as you work through the questions above. Based on your answers, it is fully possible the review is just complete nonsense. Regardless, we have to answer it the same way we would respond to valid concerns. 
Step 3: Resist the urge to blast the anonymous reviewer
As much as you may want to call out each and every untruth the review shared, know that could only spark an ongoing public discussion that will only cause further damage to your company's reputation.  
As soon as you respond to any review on Glassdoor, the anonymous person that left it will receive a notification—with a link to your response. If you blast the reviewer, guess how they may respond to your response? 
That's right! With another scathing review that truthfully, only makes the company look bad in the eyes of future candidates. Here are some examples of how NOT to respond to a bad Glassdoor review.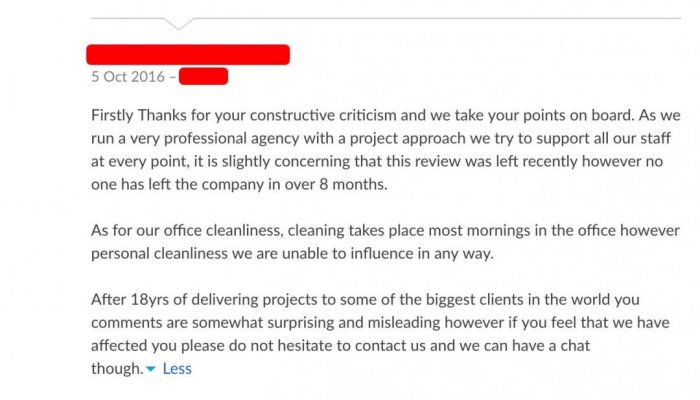 Why this review response does not help. While this company did take the time to thank the reviewer for leaving a review, there's an immediate punctuation error that makes readers feel the company didn't carefully think about their response. Next, providing details about why the review is concerning to the employer and the fact that no employees have left does not HELP the company in any way.  
As a viewer, we are led to believe that either: 1) a past employee was scared to leave a review sooner or, 2) there are current employees who are unhappy with the organization. The response continues to go into details that are simply not helpful for improving the company's reputation. In fact, stating "personal cleanliness we are unable to influence in any way" leads readers to believe there is truth to the review.  
Remember, your response as an employer to negative Glassdoor reviews is not for the reviewer—it is for everyone else who will enviably read it.  
The conclusion of the response continues with grammatical errors and does not provide direct details for the reviewer to reach out. Not that the reviewer would as this employer does not take any ownership or seem remotely curious about the provided feedback.  
The approach to responding to negative reviews should never be "an eye for an eye." The outcome of will almost always additional negative reviews and a tougher time hiring. Instead, closely follow step four of our guide.  
Step 4: Calmly acknowledge the review and provide an alternative medium for a deeper discussion
Have an identified person at your organization respond to the review to provide a sense of ownership (if you haven't claimed your business on Glassdoor, start by doing that). Start by thanking the reviewer for taking the time to leave a review. 
Next, concisely acknowledge the reviewer's feedback in a neutral tone and apologize that they feel that way. Take ownership to make things better by providing the opportunity for the reviewer to continue the conversation offline. Be specific with how they can contact you.  
Here is an example: 
"Thank you for taking the time to leave a review. We take all feedback very seriously; I'd like to learn more about your perspective. If you'd like to continue the conversation, feel free to contact me directly at [insert your company email here]." 
It is likely most reviewers will not take you up on the offer; however if they do, it is likely their feedback is valid and worth hearing. Regardless of the outcome of responding to a negative review on Glassdoor, the most important thing is to acknowledge negative feedback. Ignoring the review does not make it go away and only looks worse for your organization.  
By responding to every review, your company appears engaged, compassionate and respectful —all qualities of a great company that many job seekers will want to work with.  
Here are some other incredible responses from employers on Glassdoor: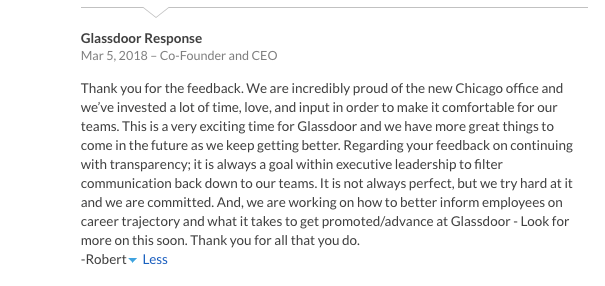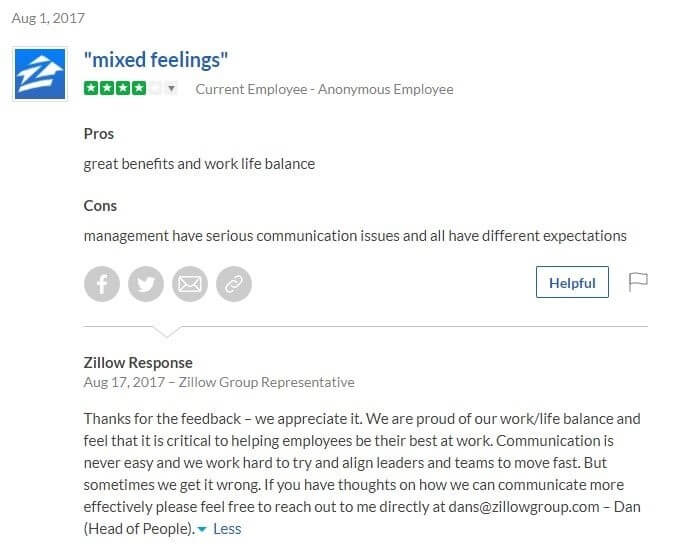 Glassdoor is a remarkably valuable tool in the recruiting toolbox for all organizations (small and large). It is not just for disgruntled employees; it is for you to build trust with future team members. 
If you don't believe us, ask your last five hires if they vetted your organization on Glassdoor before their first day. We are willing to wager your next dentist bill that at least three of them say yes. Okay, that last statement isn't true but we are willing to wager you a digital high-five instead.  
The best way to combat negative Glassdoor reviews is to proactively provide potential candidates with the information they're looking for. What do candidates really want to know about your company? Click here to continue reading. 

Other Helpful Reading: 
4 Things That Should Be On Your Careers Page