Employer branding recap💡
Employer branding is shaping your company's narrative and identity to influence how your company is viewed as an employer. It's what comes to mind when individuals, specifically job seekers and current employees, hear your company name.  
Must-dos for your employer branding social strategy 🎯
Now that you understand what employer branding is, we'll help you understand how your startup is going to promote it across social media. But first, why does social media matter for your employer brand? Simply put, that's where talent (and literally everyone else) is. Social media is an inexpensive way to reach a huge audience, a great way for your startup to tell its story, build a positive reputation and show candidates why you're a great place to work. Here are some of the must-dos to help your startup build its employer brand on social: 
Focus on the right platforms 
There are so many social media platforms out there, so it's important to know where your potential candidates spend most of their time. Are they on LinkedIn? Or TikTok? Not sure? Do your research! There are different approaches you'll want to take to each platform, so learning about your audience and having a strategy in place to grab their attention is key. For more tips on which social media platform would be best for your recruiting, check out our blog where we break down the pros and cons of recruiting on several popular social networks so you can choose the best fit for you.
Be authentic 
People love to see the human side of any business! Out with the boring, dry social posts and in with the real, not-so-scripted sounding posts. It may seem scary, but we promise you, if you let loose and pick up your phone and snap those behind-the-scenes photos and create genuine content of value, your audience will be able to see the authenticity of your startup and you'll create real rapport. 
Engage with your followers 
Your employer branding social strategy doesn't just stop at posting on social media – you have to engage with your followers. That could mean replying to people who tag your brand, responding to someone when they ask you a question or commenting on relevant posts. That way, your audience, and more specifically job seekers, will see that there is a real person behind the screen and not a robot. Remember, your social media presence should be a 2-way conversation and not just you talking at people. 
What types of content should I be posting? 📱
Perks + benefits 
Job seekers love to see what kind of perks a company offers their employees. Without bragging, you could highlight what you have to offer, or tell stories about how your employees use the perks and benefits. If your employees are up to it, you could even involve them and have them share how they use their benefits, what perks they like the most etc. 
Company culture 
Your company culture is the personality of the workplace. It's largely influenced by leadership, but is also built by social activities, events, and other initiatives to support the well-being of employees. Next time your team gets together for a game of volleyball, has happy-hour, or whatever it is you all enjoy doing together, snap a pic and share it on your socials! Or, if you have a remote team, taking a screenshot during your next Zoom get together will also do the trick. Job seekers would like to see that your team is unified outside of the office and that the company perks go beyond just the surface level list on the job posting. Take Vivid Machines for example: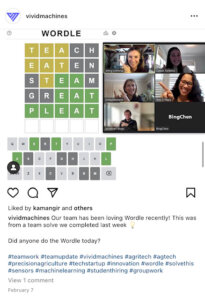 Office photos 
Work in the office? Share a picture of the space. Bringing your social media followers 'in' to your workspace gives them a sneak peek look at what it would be like working there, and the culture (or vibe) of the office.  
Working from home? Share employee's WFH set-ups. Since COVID-19, the trend of sharing your home office set up has blown up. The more candid the picture, the easier it will be for candidates to see if they think they'd be a good fit in the company.  
Behind the scenes, candid moments 
Instead of boring stock photos that are likely nothing like what it's like to actually work somewhere, try taking pictures or videos of behind the scenes and more candid moments. For example, show the faces of the employees that make up your hardworking teams, do a 'day in the life' TikTok, or give a short office tour. Showing the human side of your company will give a glimpse of what it's like to work there and will also help gain a sense of trust with your followers. FigBytes does a great job of this: