Hiring a new employee is stressful. You need to find the right person for the job, but you also want them to be as excited about your startup's mission as you are.
How do you know if they'll hit the ground running? Social media can help! It's not just a simple way to reach potential applicants; it provides valuable information that helps you make the best hiring decision possible.
In this post, we'll go through some of the most common ways social media can boost your hiring process and get more candidates interested in working at your company. Keep reading for our best social recruiting hacks!
1. Integrate social media into your job ads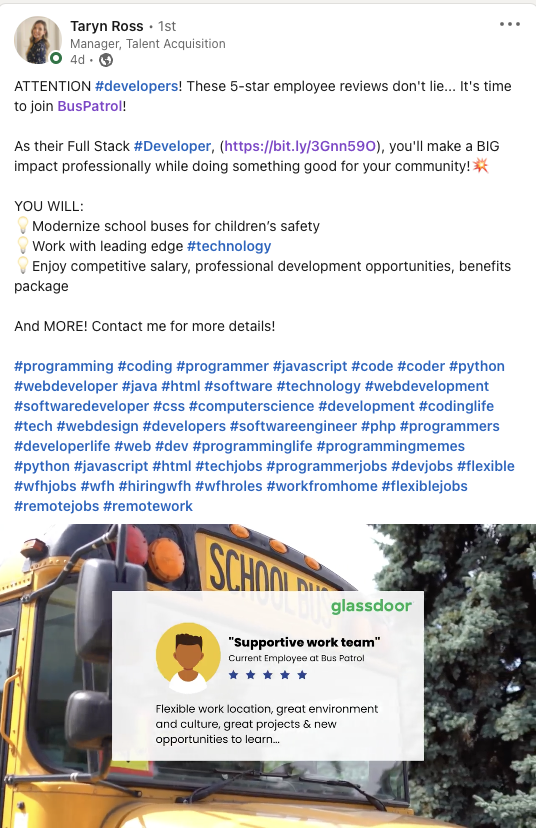 If you're looking to attract more candidates, you should consider using social media to advertise your job openings (beyond a simple LinkedIn or Indeed post!).
By posting on social media platforms, you'll be able to reach a large audience that may not have been reached by traditional methods. But don't get overwhelmed trying to do too much at once; be strategic and choose your platforms carefully.
This can help you attract candidates who are not actively looking for jobs and help get fresh prospects acquainted with a brand new employer: you!
2. Encourage employees to share opportunities
The second way you can use social to attract candidates is by encouraging your employees to share job ads with their own networks.
This can be done in a few different ways, but the most effective method is to create a job ad on social media and ask your employees to post it with a personal touch on LinkedIn (or whatever network you choose).
Don't have a team full of writers? Don't worry, sharing a post doesn't have to be complex. A simple message that brings context to the job posting while sounding authentic will do the trick, like:
"For anyone in my network who loves sales, we're hiring at X Company! Did I mention we have every second Friday off in summer?!" This simple message conveys a fun work culture and humanizes your company, which will give you a chance at finding someone who meets all of the qualifications listed in your ad before anyone else does!
3. Listen to what your candidates are saying
Social media is a great way for you to hear what your candidates are saying about the company, the job, and the interview process.
Monitor Glassdoor, comments on your posts, popular LinkedIn threads on hiring, or hashtags related to your industry, then use this information as a guide in how you want to present yourself and your brand online.
For example, if someone mentions that they had an unpleasant experience with one of your recruiters or HR representatives, then it might be time for some additional hiring manager training. PS – we offer that too!
4. Keep the conversation going
Interacting with candidates on social media is a great way to keep them interested in the company and its job openings (even if a promising candidate doesn't work out the first time).
By creating your own community or talent network online, you can respond to questions, share fun culture content and ask for feedback about your interview process.
If you have time for it, it's also helpful to answer questions about the company or provide information about how hiring works in general (e.g., how many jobs are open at any given time).
Social media is a powerful tool for finding and attracting top talent, but you can't just post a job ad and go radio silent on the rest of social media!
You need to keep your candidates engaged on social media so that when they see something new, they're excited about it.
By integrating digital tools into your recruitment strategy, you'll be more likely to attract quality candidates – as well as keep them interested in your brand.
Need help building it? We got you. Want extra support? Reach out for a quick, free consult with us today!